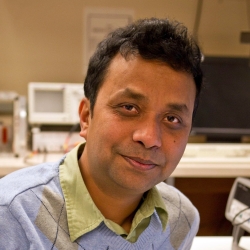 Quantum materials and nanodevices.
PhD Physics, Stony Brook University, 2006.
At SF State since 2014.
Dear faculty, students, and staff in the Department of Physics & Astronomy, in the College of Science & Engineering, and our broader community of colleagues and friends at San Francisco State University and beyond,
I am extremely sorry to report that on Wednesday, July 19, 2023, SF State Physics Professor AKM Newaz suddenly and unexpectedly passed away in his sleep.
Newaz was loved by his wife Homaira Ahmed, his daughter Auhona (14 yo), and son Reehan (10 yo).   Newaz adored his family.  They were most happy out in nature together, frequently taking family trips to national monuments and parks, and going hiking, camping, and fishing.
Newaz joined SF State in August 2014.  He earned his PhD in Physics from Stony Brook University in 2006 and did postdoctoral work at Washington University in St. Louis and Vanderbilt University.  Newaz was a world-leading expert in the experimental characterization of the electrical, thermal, and optical properties of two-dimensional quantum materials and he held multiple patents for novel quantum nanodevices.
At SF State, Newaz was a thoughtful teacher of undergraduate and graduate physics, and more importantly, was a dedicated research mentor to dozens of student scientists.  As a colleague, he was cherished for his easy-going nature and compassion.
Newaz was the primary breadwinner for his young family.  If you are so inclined, I encourage you to contribute whatever you can to a GoFundMe account to help financially support his family in this extraordinary difficult time, especially in the coming weeks, months, and years.
The GoFundMe account is: https://gofund.me/9d378314
Please share this with anyone who may have been friends with Newaz and his family.
Sometime in the fall 2023 semester, we plan to have a memorial service and celebration of his life with the campus community.
Peace,
Joe
Joseph Barranco
Professor & Dept. Chair
Dept. of Physics & Astronomy
San Francisco State University