PHYS/ASTR Colloquium: Faculty Mini-Talks I
Monday, September 11
Event Time
03:30 p.m. - 04:45 p.m.
Location
Thornton Hall 411
Contact Email
barranco@sfsu.edu
Overview
This Monday will feature 5 faculty members giving you brief snapshots of their research interests:
Professor John Brewer: Exoplanetary Science
Professor Kim Coble: Physics & Astronomy Education Research
Professor Charli Sakari: Galactic Archaeology
Professor Weining Man: Quantum Optics & Photonics
Professor Huizhong Xu: Nano-Opto-Biophysics
These mini-talks are a great way to learn about faculty-led research projects and what opportunities are available to join their research endeavors.  New students are especially encouraged to attend!
(New graduate students are REQUIRED to attend!)
Upcoming Events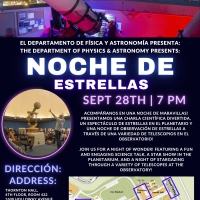 Thursday, September 28, 2023