PHYS/ASTR Colloquium: "The Pleiades Experience: Intercultural Connections and the Science of Ancestral Timekeeping" - Dr. Isabel Hawkins (Senior Scientist, Exploratorium)
Monday, September 25
Event Time
03:30 p.m. - 04:45 p.m.
Location
Thornton Hall 411
Contact Email
egonzales@sfsu.edu
Overview
The Pleiades Experience: Intercultural Connections and the Science of Ancestral Timekeeping
The Sun, Moon, planets, and stars have accompanied sky watchers over millennia. The Pleiades star cluster, observable from every continent except Antarctica, is tied to Indigenous worldviews, astronomy, calendaring, traditional weaving, weather prediction, and agriculture. For the original peoples of Polynesia, Mesoamerica, and the Andes, the Pleiades cluster continues to be a source of knowledge, both culturally and scientifically. Due to native language loss and globalization, such knowledge is eroding at a fast pace. I will share results of a Fulbright U.S. Global Scholar project and emerging results from collaborative research conducted in ancestral lands with Indigenous elders, young adults, and academics in Aotearoa/New Zealand, Guatemala, and Peru. Results are being shared locally for the benefit of the host communities and future generations of Indigenous astronomers.
Upcoming Events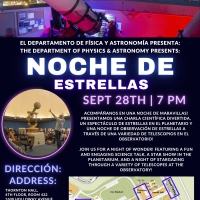 Thursday, September 28, 2023